VISIT-X Now Available as WordPress Plugin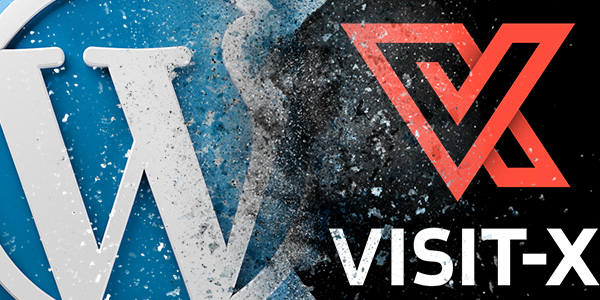 One result of our massive VX-CASH survey was the following wish of our webmasters:
"Make the live cam portal VISIT-X available as a WordPress plugin."
We get this. Completely. WordPress is the most widely used content management system ever. Even 14 of the 100 largest websites use WordPress. Among them are companies such as CNN, TED, Disney, Microsoft or PlayStation, as well as major universities like Harvard or the universities of Berlin or Melbourne.
VX-CASH has been supporting WordPress since 2016. Our webmasters can use the VX-CASH WordPress-Theme, the VX-CASH Dating-Theme and the BeiAnrufSex-Plugin.
And based on the survey results, we have now also developed an additional plugin that can be used to integrate the cam girls from VISIT-X into existing WordPress installations.
This plugin is now available for download: The VX-CASH VISIT-X WordPress plugin.
You have the option to customize links, fonts and the number of "tiles". That way, the plugin can seamlessly be integrated into your WordPress installation. In order to operate the plugin on your site, you will need, besides your Webmaster ID, the "VISIT-X API Key". Please ask your VX-CASH account manager or the VX-CASH support for this key.
The plugin is easy to install. Download the latest version of the plugin here. Then log in to your WordPress installation and go to the directory "Plugins". Here, click "Installieren/Install". After the successful installation, you need to activate and configure the plugin.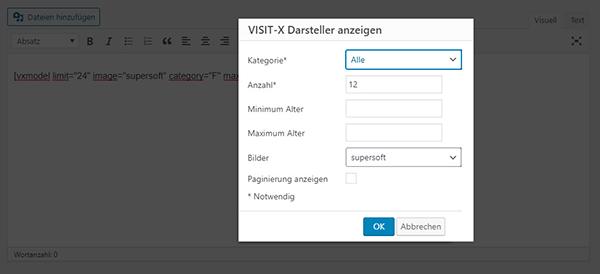 Now you can easily integrate VISIT-X content into your existing posts or pages. In the Visual Editor, you will find a new short code with the title "VISIT-X". Use this short code to embed VISIT-X camgirls into your post or page.
Post was published on 19. January 2021.