Self-Optimizing Landing Pages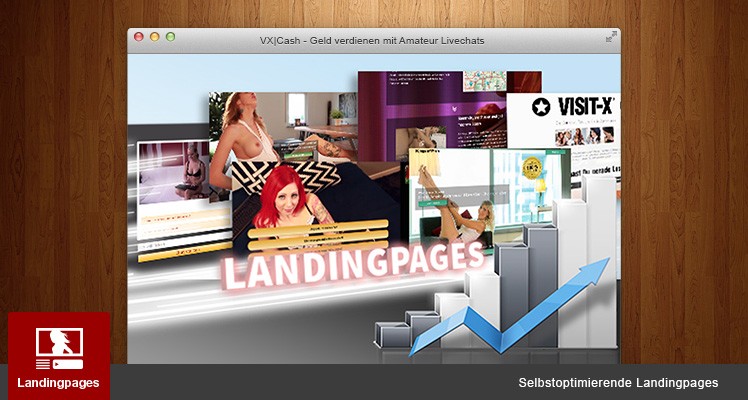 How to earn money easily
With a single link to our self-optimizing landing page an ideal conversion of your traffic is ensured.
A browser sniffer detects whether your traffic is mobile or from a desktop computer and transfers the user to the landing page optimized for just the right kind of traffic.
Many webmasters are already using our new self-optimizing landing pages.
You can find these for our products VISIT-X, Lustagenten and PornMe. See Werbemittel > Selbstoptimierende Werbemittel (promotional material > self-optimizing promotional material).
You simply select 'Landingpage' beneath 'Bannergröße' (banner size) and copy the link. To make things easier, you can also use the links in this newsletter.
But: please do not forget to substitute the XXXX with your own webmaster ID and campaign ID (after w = the five-digit webmaster ID and after ws = the seven-figure campaign ID).
VISIT-X
.../VX/LP/Rotator?w=XXXXX&ws=XXXXXXX
Lustagenten
.../LA/LP/Rotator?w=XXXXX&ws=XXXXXXX&ct=com
PornMe
.../PM/LP/Rotator?w=XXXXX&ws=XXXXXXX
And now, what the hell are 'self-optimizing landing pages'?
These links display our latest and, more importantly, those landing pages which offer the best conversion. The optimization is performed automatically based on clicks, signups and other factors, calculated by a rather complicated, specially programmed algorithm.
Before we add new landing pages, they will be extensively tested in an internal test by our media team to make sure that the they achieves optimal CTR and conversion.
So you do not have to carefully consider which landing page to choose. We will do that for you.
Using these links will save you time – and it will even save the media buyers money! That way, you can focus on what you do best – generate traffic.
The VX-CASH team takes care of all the rest!
Get going!
Post was published on 1. October 2015.