BeiAnrufSex goes VX-CASH Games 2015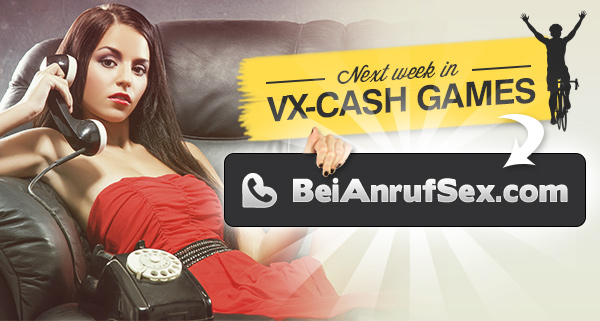 Take part in the VX-CASH Games!
The VX-CASH Games 2015 are now well on their way. Many participants have already earned prizes worth over €1,500!
Every day more people join us. As a part of our "moving up" team they can all win points – and so prizes and money – just like all the other participants.
You should pay particular attention to the products of the week, because with these you can clear a fat bonus every week.
Next week it's all about "BeiAnrufSex".
This top product has been steadily improved since the launch on July 1. Every day the number of incoming calls is growing. This is proof of how much the customers love phone sex with live cam.
These are a few of the many reasons why you should promote BeiAnrufSex:
We offer the widest selection of available girls
We offer the highest payout in this field – no chargebacks
We offer a responsive product that works well on mobile phones
We offer the chance to specifically promote individual profiles
So get on board, take part in the VX Cash games – and cream off your favorite prizes!
Post was published on 26. August 2015.