WordPress Installation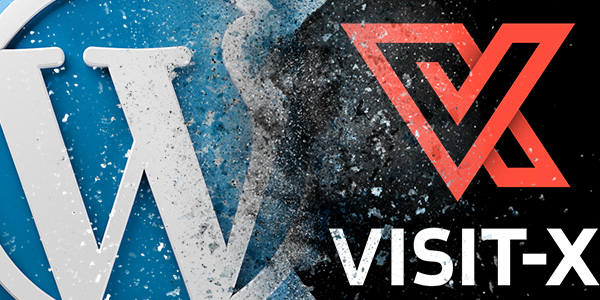 Last Update: 25.09.2019
There are many benefits to having your own blog. Your blog is under your control. You are not dependent on providers such as Facebook, Twitter, etc. Instead you have your own platform, where you can publish your own content. A blog is the ideal place for our numerous advertising materials. And naturally, the all important unique content is best placed on your own site.
But why WordPress?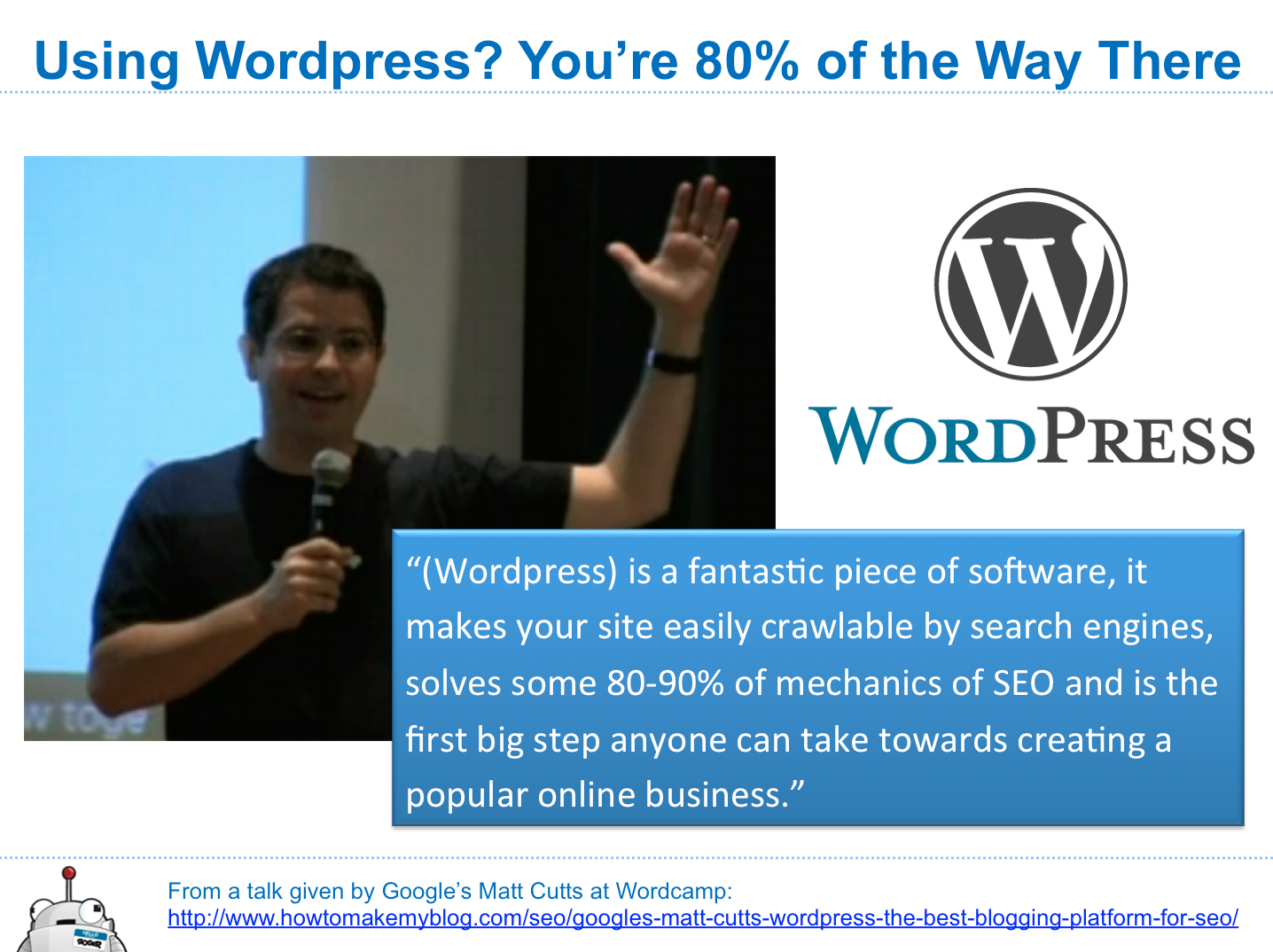 (Out of a presentation from Rand Fishkin)
http://howtomakemyblog.com/googles-matt-cutts-wordpress-the-best-blogging-platform-for-seo/
Check out this guide for more information on how to perfect your on-page SEO for the best results.
You should know that WordPress is a super popular platform that's used by more than 1/3 of the web and that hosts 60% of the web pages that are on content management systems. That's a significant share, and one that demonstrates the impact that WordPress has had on the internet worldwide.
Probably most of the pages you read every day are on WordPress, especially if you're an avid blog reader. That tells you two things: one, it's easy enough to use that a lot of hobbyists are opting for it, and two, it works! If you're running a blog, it makes sense to switch to what most people are using.
The other thing to note is that WordPress is completely free of charge. (Be careful, though – we're talking about wordpress.org, here. WordPress.com is completely different, as it's a third-party hosting platform – in exchange for a fee – whereas wordpress.org is a self-hosting platform.)
Especially if you're just starting out, hosting on WordPress won't cost you a dime, but it will be a considerable help when it comes to the revenue you'll be making from your page. That can make the difference when you're having trouble deciding between many different options.
Perhaps most importantly, WordPress makes it easier to implement SEO and it's easier to install than you thought. It's a matter of a few simple steps that can be followed by virtually anyone, especially if you know your way around the web.
Okay, now we have made this clear, it's now time to answer the question: "How do I install WordPress?".
Most of you probably already use a VISIT-X or Lustagenten kit.
And in most cases you will find this kit on the domain www.webmasterdomain.com. You set up the kits at VISIT-X via CNAME. We already published an extensive tutorial explaining how to do this. So, in case you are not using a VISIT-X or Lustagenten kit yet – just have a look at this tutorial, and get started!
Now the "main domain" is reserved for the kit. But of course you are free to create a certain number of subdomains for your domain.
What's a subdomain?
A subdomain is a domain located, in the hierarchy, below another domain. Usually this means domains of the 3rd or 4th level.
So it's best to set up a subdomain with the title "blog". But of course you can choose any name you want.
System requirements for a WordPress installation
Not every webspace can be used for a WordPress installation. For WordPress, as it is in September 2019, you'll need the following:
PHP 7.3 or higher
MySQL 5.6 or higher OR MariaDB-Version 10.1 or higher
HTTPS Support
As long as your webspace supports all this (and most webspaces do, at least unless you chose the cheapest offer), you can start immediately. If you are not sure whether your webspace supports all this or not, there are two ways. You can either ask the support of your webspace provider or create a PHP file with the following content:
Save this file as phpinfo.php und upload it to your webspace. Access the file with your browser. It will give you a fairly accurate description of what is running on your server. In case nothing is displayed, you can be quite sure that your webspace doesn't support PHP, and so you can't use it for WordPress.
Attention: Delete this file immediately afterwards. Such information could be quite helpful for a potential hacker…
And this is where you can download the current WordPress version:
https://wordpress.org/download/
Download the package and unzip it.
Open the file wp-config-sample.php using a simple text editor (Notepad, but NOT Word, or OpenOffice) and enter the required data base information and security key. (In case of problems – simply ask your web space provider for help.)
Save the file as wp-config.php.
Upload all files to your server.
And that's it.
I get an error message "error establishing a database connection"
The reason for this are always incorrect entries in the wp-config.ph. So please check:
Are you sure you entered the correct user name and password? Please note: these are not the login data for sending e-mails or login via FTP.
Did you enter the correct host name? In most cases it's "localhost" (without the quotes).
Is the data base server up and running? Does your webspace support MySQL?
In most cases incorrect information in the file wp-config.php is to blame for errors. So check this file very carefully!
define('DB_NAME', 'DATA BASE NAME'); // the name of the data base you are using.
define('DB_USER', 'USER NAME'); // the user name for your MySQL data base
define('DB_PASSWORD', 'PASSWORD'); // your MySQL password
define('DB_HOST', 'localhost'); // or something like: dbserver.host.com, but never http:// (in most cases 'localhost')

I have set up WordPress – and now what?
For webmasters on-page optimization of their blog is an important next step. (You don't have to do it, of course – but it's always a good idea.) For some tips about how to do this we recommend the following article:
https://yoast.com/articles/wordpress-seo/
The WordPress plugin Yoast SEO is also something we urgently advise you to install.
https://yoast.com/wordpress/plugins/seo/
It's a good idea to choose another than the WordPress standard theme as well. There are quite a few interesting themes fitting for erotic blogs. Our colleagues from Crakrevenue have already posted some helpful articles about this topic, which we are happy to link:
As soon as you have set up your blog, the next step is filling it with lots of content – i.e. articles. Of course, not every webmaster is a good copywriter as well. If you don't have the time or desire to write your own content simply have a look at the English webmaster forums:
Here you will surely be able to find some good copywriters. It's always worth a try!
With a setup like this you can quickly achieve some good rankings. Topics like keyword optimization are also important, naturally. Just think about which terms the user may enter in a search machine to find live cam girls.
It's useless to write about something like "Free Porn" if what you really want is users prepared to pay good money for good live cams.
Then it's better to write about, for example: Why live cam chats are much better than free porn tubes; or The best features VISIT-X can offer you. Just take a look at our blogs. Here you'll get all the current information you need about what's happening in the VISIT-X universe:
In general, content is king. That's why you better invest in your own content. Buy your own pictures, get your own videos, write articles – or let someone else do it. The better your content, the more the users like your page, the better the rankings you achieve.
Always remember: Google doesn't want sites that please Google – Google wants sites that please the users! Google likes you – as long as the users like you!
Any questions? Don't hesitate to contact our support. Best you do this via e-mail, because then we can take the time to give you the most helpful answers.
Post was published on 30. April 2015.