VX|Cash Takes Off…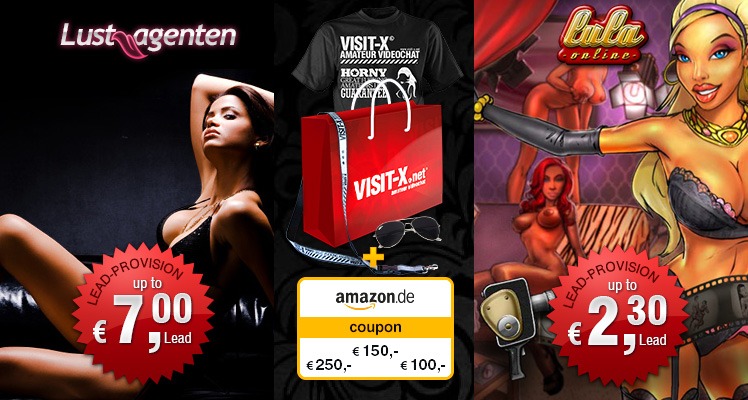 …Three Times!
Banger 1
As previously announced, VX|Cash launches a new lead compensation for our casual dating portal Lustagenten. Which means: up to incredible 7.00 EUR per lead for you!
In plain text: EACH DOUBLE OPT IN LEAD generated after 04/15/2014 at 10:30 pm will be compensated, depending on the webmaster level, with at least 5.50 EUR:
Webmaster level 7 = 7.00 EUR
Webmaster level 6 = 6.75 EUR
Webmaster level 5 = 6.50 EUR
Webmaster level 4 = 6.25 EUR
Webmaster level 3 = 6.00 EUR
Webmaster level 2 = 5.75 EUR
Webmaster level 1 = 5.50 EUR
All leads generated before 10:30 pm will be settled according to the old model. Leads generated after that time will be waiting for the DoubleOptIn. See the hourglass icon?
Banger 2
But that's not all. Our iconic gaming protagonist LULA is more than generous with her charms. And willing to pay up to 2.30 EUR per lead! That way we have now DOUBLED THE FORMER LEAD COMPENSATION!
This is effective immediately and applies not only to leads from Germany, Austria and Switzerland, but to customers in the US and the UK as well.
Banger 3
In recent years VX|CASH has provided you with lots of products with top conversion rates and useful features. And we have continuously improved our portfolio. BUT WE THINK THAT'S NOT ENOUGH. We want to become even better. And we intend to meet your needs and requirements as a webmaster in an even more targeted way.
That's why we have launched a big survey. Please note the deadline: 04/30/2014. You want to know what's in it for you? Well, all participating webmasters can look forward to a huge surprise package for taking our VX|Cash Webmaster Survey. And there will be a lottery as well – all participants will have the chance to win one of three Amazon vouchers worth 100, 150 and 250 EUR!
The survey is deliberately kept brief and offers plenty of space for your suggestions. Don't hesitate – submit the online form now! Of course we are always open for your ideas and suggestions, comments and proposals for improvements anyway.
Update: The Survey is Offline and Over. Thanks to all Webmasters for their Support!
Post was published on 15. April 2014.