VX-CASH presents BeiAnrufSex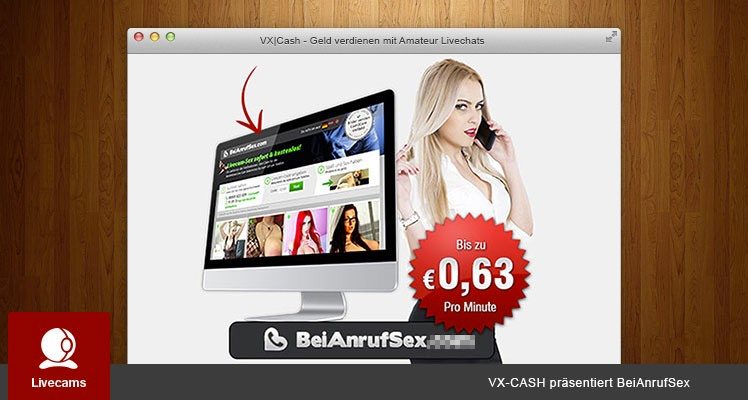 From now on you can promote a new product with VX-CASH: BeiAnrufSex
BeiAnrufSex is the new phone sex platform including free video chat. For the customer it´s quite simple: He calls the girl directly and gets a code from her for the free video chat. The customer only pays for the call on which you will be involved directly as a webmaster.
The great advantage for the customer is that he doesn´t have to create an account and provide any payment information. He will be connected to the chosen girl immediately and can speak directly to her while watching her in the chat.
Optionally, he can activate his own cam or send pictures of himself to the girl. Naturally, this service offers also a full-screen functionality to keep the customer in the chat for a long time.
Phone sex still enjoys high popularity and many webmasters have asked for a product like this in the past.
To start, we provide a wide selection of banners in all standard sizes. More – and also dynamic – advertising material will follow soon.
Of course you can create your own iFrames and customize the colors, that they can be seamlessly integrated in your pages.
We are particularly looking forward to the fact that we can offer you the highest payout so far in this industry. Depending on the level you will get up to 0,63 EUR per minute – and this from the first minute!
As a matter of course, BeiAnrufSex is free of chargebacks for you!
If you have any ideas, proposals or even criticism regarding this new product, we would appreciate hearing from you.
Post was published on 1. July 2015.