Phone Sex with Your Own Phone Number as iFrame for Your Website!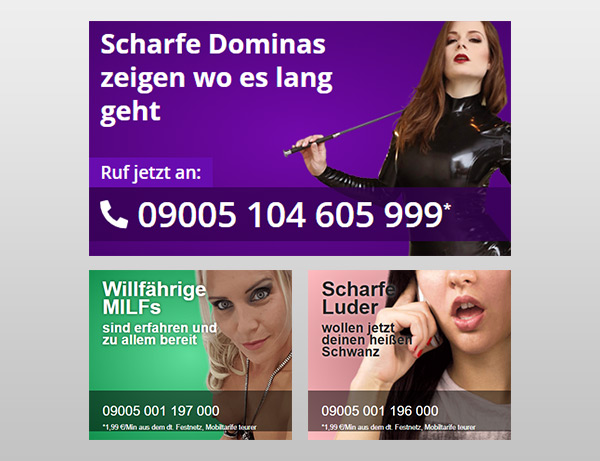 The demand for phone sex seems to be bigger than ever these days. For all webmasters who have optimized their pages in this domain we have now added the "BeiAnrufSex CallCenter" to our product range. This is a classic phone sex service as a separate product.
Unlike BeiAnrufSex.com this promotion targets customers who are looking for pure phone sex, without a webcam. We provide the following niches: Anal, Dominatrix, Young Women 20+, Big Boobs, Housewives, Girls (teens), Sluts, MILFs, Grandmas and Bits on the Side.
The commission for the "BeiAnrufSex CallCenter" corresponds to the unbeatable sharing of the main product BeiAnrufSex. Your unique extension (DDI) ensures that you will get every penny you've earned.
The following tools are available to promote this product:
Promotional Material
Banners as configurable iFrames. These can be adapted in color and category via parameters.
Numbers in text form. The numbers of the "BeiAnrufSex CallCenter" available to you are listed in simple text form. This makes it easier for you to copy them for your promotion.
Kits & WordPress
The moment the "BeiAnrufSex CallCenter" is activated, three banners with your phone numbers will automatically be displayed in your kits below the page numbering. Images and texts of the banners are predefined for all categories. In the configuration for your kit you can select which banners will be displayed and in which color they will appear. If necessary, the banners can also be hidden.
Since the "BeiAnrufSex CallCenter" is currently not yet available in the VX-CASH Theme or in the BeiAnrufSex WP Plugin, you can also integrate the promotional materials listed above into your WordPress installation – to create your very own "BeiAnrufSex CallCenter".
Statistics
In your statistics, a sub-product called "BeiAnrufSex CallCenter" now appears in the category "BeiAnrufSex". Here, ten campaigns will be created automatically. The campaigns are named according to the respective categories (MILF, Dominatrix, Sluts, etc.). Each category has its own number and sales are automatically allocated to the relevant campaign.
Get started now
Webmasters who have already generated sales with BeiAnrufSex are automatically allocated their own extension. This is used to link the number to your webmaster ID. If you have not yet promoted BeiAnrufSex but would like to promote phone sex, all you have to do is activate your account for the "BeiAnrufSex CallCenter". And you're ready to go!
Post was published on 12. May 2020.