New Features – Better Conversion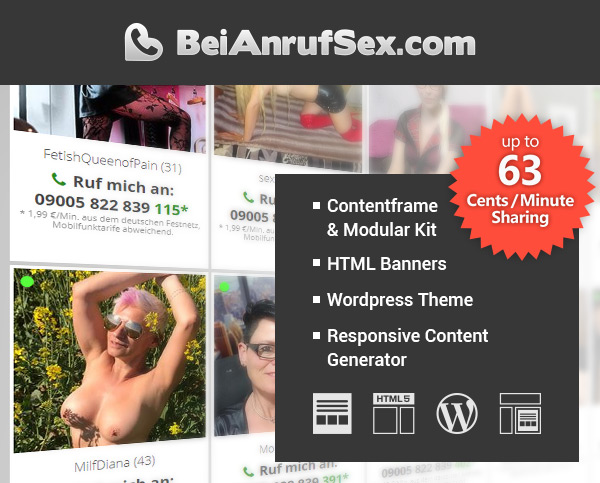 Phone Sex with webcam is booming! Our webmasters are still seeing huge sales with phone sex and profit from an ever-increasing demand. That's why we have fundamentally revised BeiAnrufSex.com and optimized the sorting order of the performers. We will introduce additional features soon.
Promote BeiAnrufSex.com now and benefit immediately from increased demand – free of chargebacks, of course!
BeiAnrufSex.com with Top Commissions
With € 0.63 per minute we are paying the highest commissions, as far as phone sex with webcam is concerned. We also offer the largest number of cam models with phone online. You won't find such a huge selection and range of models at any other German-speaking website with webcam phone sex.
We also offer innovative promotional materials with a strong conversion:
BeiAnrufSex content frame and modular kit
HTML banners
WordPress themes
Responsive Content Generator
BTW – all performers have fixed phone numbers. The very popular saving of the numbers to the phone's hard drive works for BeiAnrufSex as well. The customer only needs to start the webcam chat once, and immediately the phone number of the customer gets assigned to the webmaster ID.
If you have any questions about BeiAnrufSex or other topics, you can always contact us. Just send us an email at support@vxcash.net or call +49 (0) 61 82 – 89 55 -204.
Post was published on 31. May 2019.